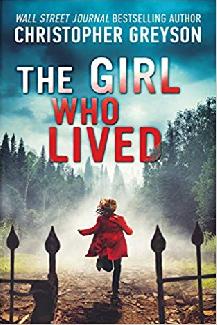 Conspiracy Thrillers
The Girl Who Lived: A Thrilling Suspense Novel
Category:Conspiracy Thrillers
Author:Christopher Greyson
Publisher: Greyson Media Associates
Publication Date: November 4, 2017
Number of Pages: 332
ISBN-10: 1683993055
ISBN-13: 978-1683993056
ASIN: B076FNQWTF
The Girl Who Lived: A Thrilling Suspense Novel by Christopher Greyson is a psychological thriller that grips the reader tightly from the start and never lets go until the very last exhilarating page. Faith Winters is released from the psychiatric hospital — the last of anything she ever wanted — as the anniversary of the murders approaches. Her destination: the same place where the murders occurred.
Despondent, desperately struggling to fight the survivor's guilt, she succeeds to overcome her addiction to alcohol and resolve to find her sister's killer. The only problem is finding the killer in a town where everyone looks like a suspect. The bigger problem is that Faith quickly discovers that she is the one being hunted by the one person she is out to bring down. Can she uncover the face of the killer quickly enough before the killer gets to her?
A tale with labyrinthine and intricate plot, The Girl Who Lived: A Thrilling Suspense Novel is emotionally rich and psychologically disturbing. Christopher Greyson lays bare the anatomy of human fear in this narrative, exploring emotional contours of the heart with the subtlety and skill that only a master storyteller can wield. The protagonist is a character readers will like to follow, a girl with a story no one believes, from the police, her therapist, and the locals. But the reader is compelled to trust her instincts and to see if she will pursue the truth or accept what everyone thinks of her.
The prose is excitingly good, loaded with imagery and descriptions that place the reader into the focused scenes and make them feel as though they were walking right behind the characters. The unpredictability in plot development adds to the unforgettable characters to create a reading experience that will leave any reader thrilled beyond expectations. A book you can't put down. Suspenseful, hypnotic, and downright thrilling.