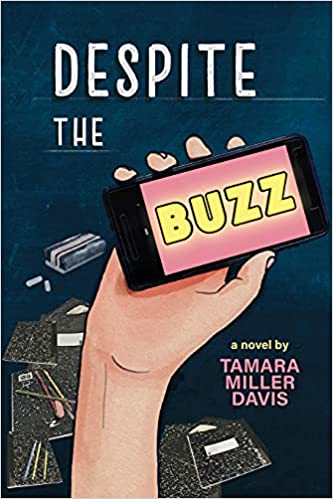 Fiction - Realistic
Despite the Buzz
Category:Fiction - Realistic
Author:Tamara Davis
Publisher: Blue Jay Ink
Publication Date: May 23, 2021
Number of Pages: 352
ISBN-10: 1736372203
ISBN-13: 978-1736372203
Despite the Buzz by Tamara Davis delivers a perfect blend of contemporary and gripping human stories, historical and scientific facts, and elements that will entice fans of speculative narratives. Gabby Oliver has just moved to California and started her new job as a Creative Writing teacher for Heart High School. She is old school, not used to technology, and still nostalgic of the time when writing was done by hand. But her students belong to an age of technology where cellphones and social media are at the center of their lives. While Gabby wants her students to find their voices and to distinguish personal communication from writing for a wider audience, she is unaware of a danger lurking in the corridors. Everything changes when a photo of one of her students is leaked on social media. The ensuing events are traumatic, and can Gabby protect her students?
This is a well-plotted, intelligently written novel that explores contemporary social issues and that plunges readers into the realities that punctuate life in high school and modern classrooms. The setting is pre-pandemic and the author captures a classroom setting filled with distractions. The impact of technology on students is brilliantly written, the characters are believable and nuanced, and the conflict reflects topical issues that teachers deal with in today's world. Tamara Davis creates scenes that feel real and puts the female protagonist, a teacher at the start of her career, through multiple dilemmas. Gabby's inner world is vividly written, her emotions take a life of their own and they rub off powerfully on readers.
In the heart of the story is the lingering question: how long can one hold the attention of students in a world where technology is at the center of their lives? Can the young survive without their cellphones? This novel is a riveting social commentary that invites readers to reflect on the impact of technology on the youth. The novel unfurls at an even pace, allowing each character ample space to develop. Despite the Buzz examines compelling and sensitive issues in the context of high school education, a sprinkle of romance and cultural details that are captured through delightful descriptions. It is as educational as it is entertaining, a novel that features a strong narrative voice, an evocative scene-setting, and an unforgettable protagonist.