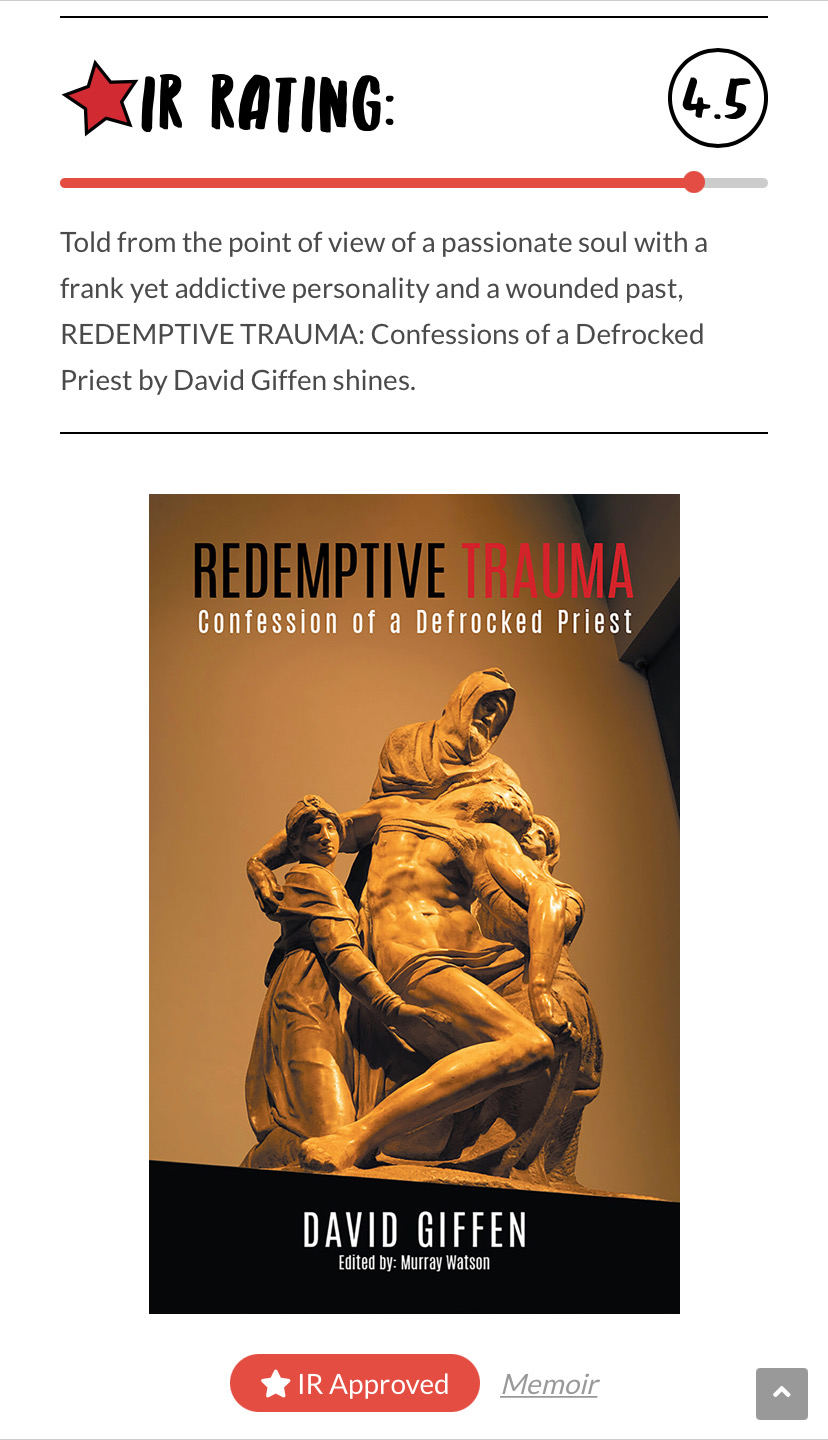 Memoir
Redemptive Trauma: Confession of a Defrocked Priest
Category:Memoir
Author:David Giffen
Publisher: Tellwell Talent
Publication Date: October 23, 2020
Number of Pages: 136
ISBN-10: 0228842182
ISBN-13: 978-0228842187
ASIN: B08LR15B1V
Redemptive Trauma: Confession of a Defrocked Priest by David Giffen is a memoir that follows the life of a defrocked Anglican priest and some of the defining moments of his life, a tale of healing and purpose through extraordinary circumstances. While on medical leave, David is formally accused and found guilty of sexual misconduct, and his appointment as Parish priest is terminated. The diagnosis with Complex Post Traumatic Stress Disorder in 2018 becomes a catalyst that plunges him towards a new way of life, establishing himself as an advocate for those suffering from trauma and violence. But can David heal and find his purpose in a world that is fast changing in values and social media dynamics?
This is a powerful memoir, and while it explores some of the painful moments in the life of an ex-priest, it offers a powerful invitation to readers — to refuse to let past, traumatic experiences define who they are. It is the story of the broken healer, and readers encounter someone who is fully human in his exercise of his faith, vulnerable in a way that appeals, and genuine in his quest for goodness in a broken world. I enjoyed stories featuring the author's ministry and work towards restorative justice.
In Redemptive Trauma: Confession of a Defrocked Priest, David Giffen strips naked and allows readers to touch his vulnerable fragility and that is the beauty of this book — the unmitigated candor and the sheer honesty with which the author looks at his life. Readers will find the courage to face themselves when they read this book. As the reader follows David through the narrative, they begin to develop a completely new perspective to understanding and nurturing faith, one that stands contrary to the "holier-than-thou" attitude that characterizes contemporary religious trends. It takes a lot of courage for an ex-priest to speak about their weakness, including sexual crisis, alcohol, and drug addictions, and this author does so in a way that is filled with clarity while allowing his search for a stronger connection with himself, with God, and with humanity to emerge powerfully. The writing is fluid, littered with powerful insights and reflections on life and faith, and the narrative voice is as clear as a clarion call.