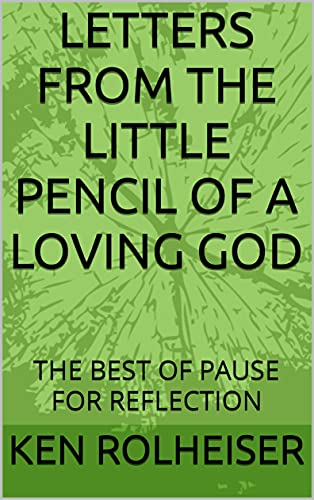 Non-Fiction - Motivational
LETTERS FROM THE LITTLE PENCIL OF A LOVING GOD - The Best of Pause for Reflection by Ken rolheiser
Category:Non-Fiction - Motivational
Author:Ken Rolheiser
Publisher: Ken Rolheiser
Publication Date: September 30, 2021
Number of Pages: 156
ISBN-10: 9798465367301
"For this very reason, make every effort to add to your faith goodness; and to goodness, knowledge; and to knowledge, self-control; and to self-control, perseverance; and to perseverance, godliness; and to godliness, mutual affection; and to mutual affection, love." (2 Peter 1:5-7)
The Pause for Reflection columns have run for 23 years and have provided thousands of Christians with the wisdom and light of faith. These columns present a message of hope and ask readers to seek spirituality in their everyday lives. With an audience from the United States of America and the west of Canada, the Pause for Reflection articles have become an encouraging hand for people who want to fulfill their spiritual needs and strengthen their bond with God.
Letters from the Little Pencil of a Loving God: The Best of Pause for Reflection by Ken Rolheiser is a collection of the most wonderful articles from the Pause of Reflection columns. These heartwarming articles relate to the sacred place where Christians meet Christ and have meaningful visions of the importance of the afterlife in their normal routine. This collection became an inspiration, a beacon of hope, and an emotionally touching book for practicing and struggling Christians. Written with an uplifting tone by a layman, the words in this book carry great importance, which will quench the thirst for spirituality in many. Rolheiser has personally selected the articles from Pause of Reflection to provide readers with the sacred food to nourish their souls. This collection is the perfect recommendation for anyone struggling with their faith and anyone who wants to reconnect with God and practice goodness in their everyday lives. It is bound to make readers cry, laugh, and get inspired. These letters compel you to pause and ponder at the inscrutable, amazing love of God, especially in these challenging times.
Ken Rolheiser's book is a spiritual gem, a book that offers readers the spiritual guidance they need to reach deeper levels of faith and intimacy with God. Written in a compassionate and reassuring tone, this book will speak straight to the heart and humanity of readers, a rare gift of faith and love that should be received with gratitude and passed on.