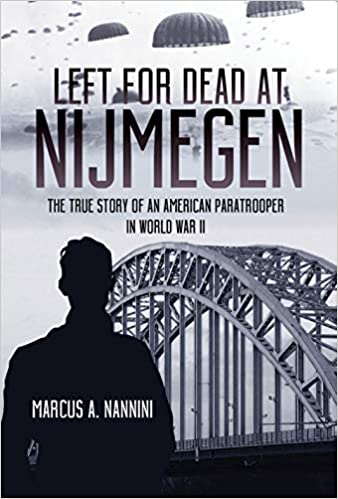 WWII Biographies
Left for Dead at Nijmegen: The True Story of an American Paratrooper in World War II
Category:WWII Biographies
Author:Marcus A. Nannini
Publisher: Casemate
Publication Date: March 7, 2019
Number of Pages: 256
ISBN-10: 1612006965
ISBN-13: 978-1612006963
ASIN: B07QM86WDW
Gene is captured by German SS soldiers, and he stands in front of a senior officer with zero protection. The senior officer turns out to be Heinrich Himmler, whom Gene recalls from his time as a soldier. He becomes a prisoner-of-war, held on the outskirts of Munich and is pushed around in camps riddled with diseases and an extremely malnourished population. After attempting to escape numerous times, he is finally released when American troops liberate his camp in 1945.
The awe-inspiring experiences of Gene Metcalfe, an American paratrooper who served in the 82nd Airborne during World War 2, are shared in this gripping book, Left for Dead at Nijmegen: The True Story of an American Paratrooper in World War II. From the moment he was recruited into the military at Camp Grant, to his training with the 501st Paratroop Infantry Regiment at Camp Toccoa —this period was replete with shocking stories until he finally arrived in England. Nannini shares Gene's memories associated with being left at Operation Market Garden in Nijmegen, Holland. It was then that Gene was noted to be killed in action because of his extensive injuries from a shell explosion. He was left to die by his patrol, but there was a lot more to it than that. Nannini carefully recounts the interrogation that followed. Everything from the minute details of his appearance to the meal he was served for the next two years. Readers find themselves on the edge of their seats as the life of this courageous soldier unfolds under unpleasant and ultimately dangerous circumstances.
Nannini has done an excellent job of capturing the emotions and hardships of World War 2 veterans —the real-life heroes. This kind of artful storytelling is only possible through the writing prowess that is characteristic of Nannini, a story that feels as real as any can be and as the reader moves from one gripping page to the next.