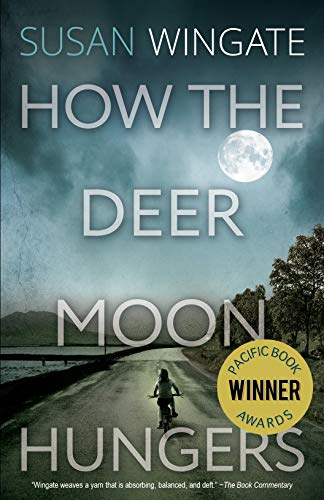 Small Town & Rural Fiction
How the Deer Moon Hungers (A Friday Harbor Novel)
Category:Small Town & Rural Fiction
Author:Susan Wingate
Publisher: Independently published
Publication Date: July 15, 2020
Number of Pages: 384
ISBN-13: 979-8629230182
ASIN: B08676VMT3
A psychologically rich and emotionally disturbing narrative that follows a young girl's journey through injustice and to her quest for answers to questions she has about her sister's death.
MacKenzie Michelle Fraser witnesses, to her utter stupefaction, as a drunk driver runs over her seven-year-old sister, and what makes the experience unbearable is that her mother blames her for her sister's demise. She is arrested for something she never did and now in juvie where she faces another fight, one for survival. Can she find answers surrounding Tessa's death and navigate through juvie without losing her sanity?
How the Deer Moon Hungers by Susan Wingate is a transporting story that takes the reader through the brokenness of a young female protagonist, from the wonderful and exciting memories of childhood with her sister through family tragedy and her struggle for survival in a somewhat unforgiving world. This is the story that will appeal to readers looking for strong characters; it is a blazing story of a wounded heart, with strong family themes. It is emotionally intense and the author ingeniously pulls the reader into the world of the protagonist.
From the impeccable world building to the strong plot points and the sophistication in character, Susan Wingate weaves a yarn that is absorbing, balanced, and deft. It is twisty and unpredictable. The strong opening pulls the reader in and plunges them into the world of Mac and Tess, characters that are memorable. The tension grows in intensity as the conflict deepens, escalating to a surprising denouement. It is nothing short of a page-turner.